New Mercedes-AMG C63 S revealed; gets a four cylinder plug-in hybrid powertrain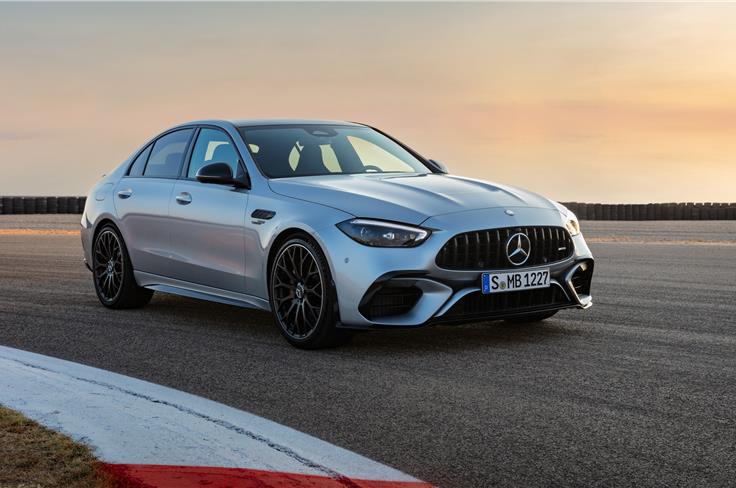 Mercedes-AMG's new C63 S has been revelaed and it trades its iconic V8 engine for a 679hp plug-in hybrid powertrain that combines a 475hp 2.0-litre four-cylinder and a 203hp electric motor on the rear axle in a sophisticated four-wheel drive system.
New C63 S gets four-cylinder engine, plug-in hybrid tech for the first time
unveiled in sedan and estate bodystyles
New CLE63 AMG will get coupe, convertible bodystyles
Mercedes-AMG C63 S: What's new?
As before, the C63 will be available as a sedan or an estate, but the role of the two-door coupé and convertible will be picked up by a hot version of the incoming Mercedes-Benz CLE, which replaces two-door versions of the Mercedes-Benz C-Class and Mercedes-Benz E-Class. For this new generation, the non-S C63 base model is dropped, leaving only the Mercedes-AMG C63 S E Performance, to use its full name.
Visually, the C63 is obviously differentiated from the regular C-Class by 76mm-wider front wheel arches hiding 19-inch or optional 20-inch wheels. There's a more aggressive front valance with the typical AMG grille and active shutters that open or close depending on the engine's cooling demands. The additional cooling hardware actually means the bumper juts out more than on a standard C-Class, making the whole car 50mm longer. The bonnet, with its air outlet on top, is unique to the AMG too.
Mercedes-AMG C63 S: Four cylinder plug-in hybrid powertrain
The 2.0-litre four-cylinder engine is a development of the unit found in the C43 and SL43. However, in this application, it has a lower compression ratio (from 10:1 to 9:1) in order to accept more boost from the larger turbocharger. To minimise lag, the turbocharger incorporates an electric motor that runs off the 400V electrical system and helps the turbine spool up faster – technology derived from AMG's Formula 1 racer.
With 475hp and 454Nm of torque, the engine on its own is the most powerful four-cylinder currently in series production.
It's supported by an electric drive unit (EDU) on the rear axle, which combines a 203hp, 320Nm electric motor, a 6.1kWh lithium ion battery, a two-speed gearbox and an electronically controlled limited-slip differential in one unit. This EDU is similar to the one on the new GT 63 S E Performance, although in that application it is paired with a 4.0-litre V8. Like other AMGs, the engine still drives through a nine-speed automatic gearbox with a wet multi-plate clutch.
At 6.1kWh, the high-voltage drive battery is relatively small for a plug-in hybrid. As a result, the C63 can travel on electric power for only 12km, compared with the C300e's segment-leading 109km of EV range.
The C63 also gets four-wheel steering, allowing the rear wheels to turn up to 2.5deg in the opposite direction to the fronts (up to 100kph) or up to 0.7deg in the same direction at higher speed. It also gets upgraded brakes with six-piston calipers at the front (optionally gripping composite discs) and single-piston items at the rear. The friction brakes are supplemented by strong regenerative braking, adjustable through four stages.
Expect Mercedes-AMG to announce India launch details and pricing for the new AMG C63 S sometime next year.
Also see:
New Mercedes-AMG C63 image gallery
Mercedes AMG EQS 53 4Matic+ review: A piece of the future
Mercedes C-Class EV due by 2024; will rival the BMW i4