Global Briefing: Denmark confirms loss and damage funding pledge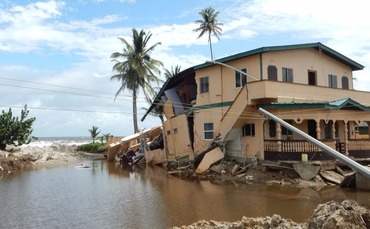 Denmark becomes first UN member to offer loss and damage finance
Denmark has this week become the first fully fledge country to promise funds to help developing countries manage climate-related 'loss and damage'.
At the UN General Assembly on Tuesday, the Danish government pledged to provide 100 million DKK ($13m) to loss and damage initiatives.
At last year's COP26 Climate Summit in Glasgow the Scottish government became the first regional government to offer loss and damage funding with a £1m pledge. But Denmark's move makes it the first UN member to accede to long-standing calls from developing countries for industrialised nations to provide climate funds that are expressly earmarked for loss and damage.
Denmark's development minister Flemming Møller Mortensen said: "I saw for myself in Bangladesh this spring that the consequences of climate change need increased focus. It is grossly unfair that the world's poorest should suffer the most from the consequences of climate change, to which they have contributed the least. With this new agreement, we are putting action behind words."
The move is significant as it breaks with industrialised nations long-standing reluctance to provide funding for loss and damage due to fears that such a financing mechanism could be interpreted as a form of compensation for climatew damage that could leave the world's largest historic polluters open to legal liabilities and limitless reparations.
Negotiations over loss and damage has been one of the persistent dividing lines at UN climate talks, with last year's COP26 Summit ending with an agreement for further talks on the topic after the US and EU again rejected proposals for a formal loss and damaging financing mechanism. As such, the issue is expected to be near the top of the agenda for the upcoming COP27 Climate Summit in Egypt.
The new funding commitment includes a 35mDKK ($5m) grant to Frankfurt-based InsuResilience, which subsidises insurance in poorer countries and 32.5mDKK ($4m) to support loss and damage related initiatives in the Sahel region.
World Bank chief under pressure over climate sceptic comments
World Bank president David Malpass has this week sought to row back from climate sceptic comments that sparked fresh calls for him to quit.
Speaking during public event at The New York Times as part of New York Climate Week, Malpass dodged a request to respond to accusations from former US Vice President Al Gore that the Trump-era appointee was a "climate denier". When pushed on whether or not he accepted that man-made greenhouse gas emissions were fuelling a worsening crisis that is leading to more extreme weather, Malpass replied that "I'm not a scientist".
The exchange sparked calls for Malpass to quit, disquiet within the World Bank, and fresh accusations the institution is not doing enough to mobilise investment in low carbon infrastructure.
By Thursday morning Malpass was on CNN declaring that it was "clear that greenhouse gas emissions are coming from man-made sources, including fossil fuels" and insisting that "I'm not a denier".
He also issued an internal memo to World Bank staff members clarifying his position, in which he stated that "it's clear that greenhouse gas emissions from human activities are causing climate change, and that the sharp increase in the use of coal, diesel, and heavy fuel oil in both advanced economies and developing countries is creating another wave of the climate crisis".
President of Vanuatu calls for fossil fuel non-proliferation treaty
Elsewhere at the UN General Assembly this week the President of the Pacific islands state of Vanuatu, called on governments to back proposals for a fossil fuel non-proliferation treaty, which would commit governments to ending all new coal, oil, and gas development.
"Every day we are experiencing more debilitating consequences of the climate crisis," said President Nikenike Vurobaravu. "Fundamental human rights are being violated, and we are measuring climate change not in degrees of Celsius or tonnes of carbon, but in human lives. This emergency is of our own making."
The move makes Vanuatu the first state to back proposals for a new treaty to try and enforce calls from the UN and others for an end to new fossil fuel development.
Norway sovereign wealth fund calls on companies to deliver on net zero goals
Norway's giant $1.2tr wealth fund has this week signalled it is planning to push the companies it invests in harder to deliver credible net zero strategies.
The fund, which is one of the world's largest investors with holdings equivalent to around 1.3 per cent of all listed global stocks, announced a new plan to step up engagement efforts with 174 companies that are among the world's largest emitters. The fund said that together these companies account for 70 per cent of all the emissions in its portfolio.
Fund CEO Nicolai Tangen told Reuters the companies could expect "more frequent follow-ups, and more specific follow-up".
"They will see more pressure from us than other companies," he added.
The new plan follows a proposal made in April by the Norwegian government, which said the fund should ensure all the 9,300 companies it invests in cut their emissions to net zero by 2050.
It comes in the same week as reports some leading banks are getting cold feet over their membership of the Glasgow Financial Alliance for Net Zero, amidst fears the group's requirement for members to develop credible net zero transition plans could leave them exposed to the risk of legal challenge if they continue to invest in fossil fuel projects.
Netherlands announces new offshore wind targets
The Netherlands has set a new target to deliver 70GW of offshore wind capacity by 2050, backed by interim targets to deliver 50GW by 2040 and 21GW by 2030.
The new plan also features proposals for offshore energy hubs, green hydrogen production plants, and increased trading of clean energy with neighbouring countries.
"Earlier this year, we made firm plans for 2030," said Rob Jetten, the Netherlands' Minister for Climate and Energy. "We are now also laying down an ambitious plan up to 2050. This gives us the space to look further ahead and work carefully. 70GW of power is very ambitious and in the coming years we will look at exactly how many gigawatts are needed. This gives us the opportunity to sustainably electrify a large part of the Netherlands and to generate green hydrogen for industry, for example."
France unveils new renewable energy plan
French President Emmanuel Macron this week officially inaugurated the country's first offshore wind farm, as he unveiled a new plan to deliver a "massive acceleration" in the roll out of renewable energy projects.
"The war changed everything… it disrupted the European model, because many countries were depending on Russian gas for (energy) production," Macron said in a speech delivered on his visit to the Saint-Nazaire offshore wind farm. "And clearly, for the first time, energy has become a weapon of war."
"We need a massive acceleration," he added. "I want us to go at least twice as fast for renewable energy projects… Our neighbors often managed to do more, better and, above all, faster."
A new renewable energy bill is expected to be presented to Cabinet next month, which will focus on reforming planning processes to rapidly accelerate the time it takes to approve new offshore wind and solar projects.
Macron said the goal was to deliver 50 offshore wind farms by 2050 and drive a 10-fold increase in the country's solar power capacity and double the size of France's onshore wind farm fleet. New measures will also aim to encourage solar projects alongside highways, rail tracks, and on commercial rooftops, as well as on low value agricultural land.
Hertz and GM team up for 175,000 EV order
Hertz and General Motors this week announced an agreement that could see Hertz order up to 175,000 electric Chevrolet, Buick, GMC, Cadillac, and BrightDrop models over the next five years.
The agreement will encompass electric vehicle (EV) deliveries through to 2027 as Hertz increases the EV component of its fleet and GM accelerates production of its EVs range.
Hertz estimates its customers could travel more than eight billion miles in the new EVs over the period, saving approximately 1.8 million metric tons of carbon dioxide equivalent emissions compared to similar gasoline-powered vehicles traveling such a distance.
"It's exciting that two iconic American companies that have shaped the evolution of transportation for more than a century are coming together to redefine the future of mobility in the 21st century," said Stephen Scherr, CEO at Hertz. "We are thrilled to partner with GM on this initiative, which will dramatically expand our EV offering to Hertz customers, including leisure and business travelers, rideshare drivers and corporates."
Volta Trucks sees first electric model roll off production line
Volta Trucks has this week confirmed the first Volta Zero vehicle has been completed at the company's contract manufacturing facility in Steyr, Austria.
The vehicle, the first of a series of second-generation 'Production Verification' prototypes, will form part of a Pilot Fleet of trucks that will be loaned to customers for extended periods in late 2022 and early 2023. The start of series production of customer specification vehicles is on track to start in early 2023, the company said.
US Senate ratifies Kigali Amendment to tackle HFCs
The Biden administration chalked up anpother climate win this week, after the US Senate voted 69-27 to ratify an amendment to the Montreal Protocol that aims to cut the use of hydrofluorocarbons (HFCs).
The passage of the so-called Kigali Amendment should help to accelerate efforts to reduce the use of HFCs, a powerful greenhouse gas commonly used in heating, ventilation, air conditioning and refrigeration (HVACR) systems.
"This is a win-win in our fight against climate change and will go a long way to battle rising global temperatures while also creating tens of thousands of good paying American jobs," Senate Majority Leader Chuck Schumer said on Wednesday.
The approval of the amendment represents the second major Congressional win for the White House in the past few months, following the surprise passage of the Inflation Reduction Act, which is expected to catalyse billions of dollars of investment in clean technology supply chains and low carbon infrastructure.