Volvo EX90 electric SUV to debut on November 9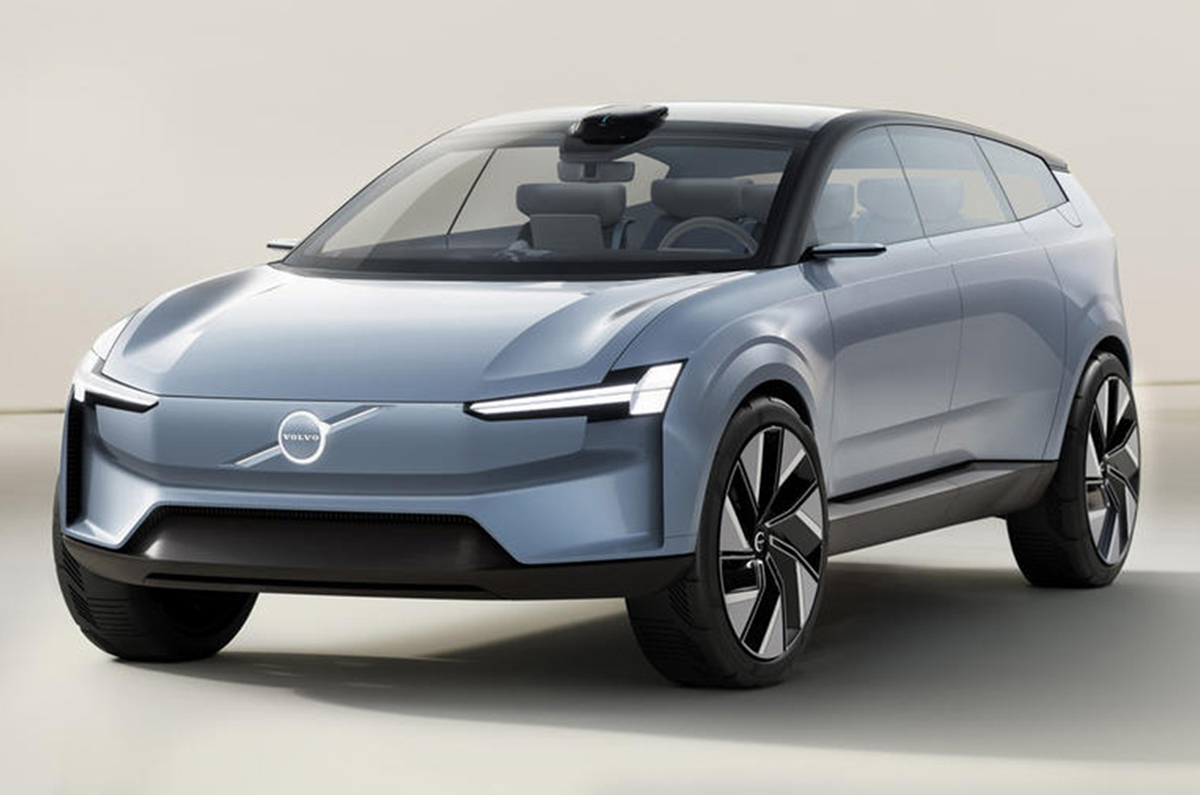 Upcoming flagship e-SUV will sit alongside XC90; will have increased focus on safety.
Volvo will take the wraps off the new EX90 all-electric SUV on November 9, 2022. The XC90-based model will go on sale overseas sometime next year.
Volvo EX90 will be production version of Concept Recharge
Will have toned down elements compared to concept
Powertrain options, range to be announced on November 9
The EX90 will be the first Volvo electric SUV to sit atop the new SPA2 platform, and will be kitted out with safety technology never before seen on a production vehicle. It will be sold globally alongside a heavily refreshed version of the current XC90 SUV, which is on sale in India. The EX90 will also play a fundamental role in Volvo's goal to sell 6,00,000 pure-electric cars annually from 2025, as the brand pushes towards becoming an electric-only carmaker by 2030.
Volvo EX90: what is it? 
Billed as a production-ready version of the bold Concept Recharge shown in 2021, the new model will provide Volvo with a long-awaited entry into the increasingly important full-sized electric SUV segment. Most premium manufacturers have launched their debut EVs in this segment in recent years.
The brand's existing pure EVs – the recently launched Volvo XC40 Recharge and coupé-backed Volvo C40 Recharge, which will come to India next year – sit a segment lower and use the same CMA platform as the conventionally fuelled XC40.
Some of the concept's more outlandish and futuristic cues – like the four free-standing seats, for example – will be toned down for the EX90. However, its skateboard-style architecture will offer new levels of interior space and flexibility.
To that end, the production car will ditch physical controls for a cleaner and simpler driver environment. Most of the functions will be controlled through a large-format central touchscreen using operating software developed by Google – as first adopted by the XC40 Recharge and Polestar 2. 
The Concept Recharge also heavily hinted at how Volvo will ensure its new flagship EV retains the XC90's core characteristics while ushering in a totally new approach to exterior and cabin design. It will continue to major on space and practicality via the 'less is more' approach exhibited by the concept, which points to an enhanced focus on minimalistic design in Volvo's new electric era.
Volvo EX90: will have increased focus on safety
State-of-the-art safety systems will underpin the new EX90, Volvo said. Fitted as standard and previewing what will be available for other future Volvos, the tech includes a 'protective shield' both outside and inside the car, using radar and cameras to assist the driver when they're either distracted, tired, or go to make a manoeuvre "just a millisecond too late."
The lidar system maps out the environment around the car and can act when the driver doesn't, taking steps such as reducing the car's speed and steering slightly to avoid obstacles or hazards. Coupled with cameras that keep an eye on the driver's attention levels and well-being, these new features can reduce the risk of death or serious injury by up to 20 percent, Volvo claims.
Volvo EX90: to be priced above XC90 SUV
But all this new technology will come at a price. The EX90 is expected to eclipse the current range-topping XC90 Recharge PHEV in pricing. Full details, including costs and release dates, will be revealed on November 9, the Swedish firm confirmed.
The XC90 remains a consistently strong seller, even in the current, second-generation car's seventh and final year on sale. In the first 10 months of 2021 alone, the XC90 accounted for around 6.5 percent of Volvo's global sales, putting it third only to its XC60 and XC40 SUV siblings.
Recent patent filings suggest the EX90 will look more like the current XC90 than was suggested by the concept, which had a straighter-edged two-box silhouette reminiscent of estate cars such as the Volvo V70.
Volvo EX90: powertrain details
Powertrain options for the next-generation XC90 have been kept under wraps, but the firm's well-publicised push to reduce emissions means all combustion variants will feature some form of electrification. Diesel will not be offered at all.
The electric variant could also usher in entirely new powertrain set-ups that are distinct from those offered on the CMA-based XC40, C40 and Polestar 2 EVs, while four-wheel drive is highly likely to be standard, given its large SUV billing. Volvo will offer a choice of battery sizes on its new EVs, giving buyers the option of standard and long-range versions, the latter capable of travelling up to 498km between charges.
Also See:
Volvo XC40 facelift with mild hybrid powertrain launched at Rs 43.20 lakh
2022 Volvo XC40 facelift review: Similar, but different